Expert's Viewpoint
In the opinion of ForexFraud, 101Investing is safe to use. The broker provides details on its website of its regulatory approval, and this has been verified with the regulator to the best of ForexFraud's ability. However, it is always prudent to make checks like this yourself both before you start trading and also once your trading career with this broker is underway.
ForexFraud also demonstrates a number of other characteristics that indicate that it is a legitimate broker. It provides a range of points of contact details for customers to use if they wish to speak to those in charge of the company, which gives an added layer of legitimacy. It also provides customers with a postal address, which gives an added layer of transparency. It also carries a risk warning, explaining that contracts for difference (CFDs) are complicated financial products, and also explaining the risk level involved.
101Investing also takes other steps towards being transparent. It has a long 'legal documents' section on its website that contains a range of crucial information for traders. This includes general company information such as a privacy policy, a complaints handling procedure, and a set of terms and conditions. It also contains some trade-specific information such as its order execution policies, 'know your customer' policy and safety of funds information. On the latter point, the firm commits to offering firewalls and the use of Secure Sockets Layer (SSL) software for the purposes of protecting transmitted data.

While there is never any guarantee that a broker is being fully honest and above board in what it says, it does appear that at present, 101Investing is a legitimate broker to use. Traders are advised, as always, to make periodic and continued checks about the legitimacy of their brokers.
Broker Summary
101Investing is a regulated, Cyprus-based broker operated by FXBFI Broker Financial Invest Ltd.
The broker has a number of features on offer for traders, including a variety of account types, each with its own combinations of swap discounts and leverage levels. It also offers a number of platform options, though notably not MetaTrader 5. This broker does not charge commissions. However, there are a number of fees charged by this broker – including fees for some inactivity, and these fees steeply increase as the duration of the inactivity gets longer.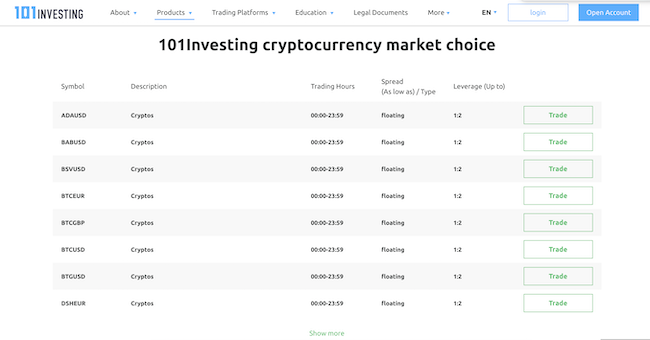 Broker Intro
As this 101Investing CFD review mentioned previously, the broker offers foreign exchange pairs for sale through the use of CFDs. These devices mean that the underlying asset does not have to be directly purchased but can still be traded. This is because CFDs are derivatives. Because CFDs are traded using leverage, it is possible to limit the amount of cash you deposit while in essence borrowing from the broker and increasing your market exposure. As this 101Investing cryptocurrency review will reveal, the broker also offers cryptocurrency CFDs.
There is an extensive programme of trading education on offer at 101Investing, including a range of video on demand (VOD) content as well as courses and eBooks covering a wide range of foreign exchange market-related topics. Customer service is also a priority at 101Investing and hence there are several possible ways to get in touch with staff in the broker's offices, including live chat and email. The broker is regulated by the Cyprus Securities and Exchange Commission (CySEC).
In this review, 101Investing will be looked at further, and some of its features and charges will be explored in more detail. There will also be more information about its position in the regulatory landscape.

Spreads & Leverage
The spread is calculated as the difference between the sale price of an asset and its purchase price. 101Investing charges based on a specified proportion of each of these, but that proportion changes based on the foreign exchange pair in question that is being traded. All of the spreads are displayed as 'pips', with a pip being the main unit of measurement on a forex graph.
At the time of writing, a range of spreads is available on the 101Investing website. These are all described as being 'as low as', suggesting that they can change. For the Euro/USD pair, the spread is as low as 0.7. For the British pound/US dollar pair, it's 1.3. The US dollar/Japanese yen pair has a spread of 0.8, while the Australian dollar/US dollar pair has a 1.1 spread.
The amount of leverage offered by 101Investing can vary quite substantially depending on what sort of account the trader chooses. Those who opt for a Silver account, for example, can access foreign exchange leverage of 1:30 – and this applies whether they are retail or professional clients. Gold and Platinum accounts, which appear to be available to professional clients, offer higher leverage of up to 1:400 or 1:500. Traders who opt for the highest account tier, Pro *Exclusive, receive a bespoke package tailored to their own individual circumstances.
Another consideration that a trader should make in this regard is whether or not they need a swap discount. Again, this can vary in value depending on the type of account in question. Silver account holders are entitled to a swap discount, but its value is not made clear. Gold account holders, meanwhile, can access a swap discount of 25%. Platinum account holders can access swap discounts of 50%. As is the case with leverage levels, Pro *Exclusive traders receive a personalised, tailored package.
This broker also offers a range of cryptocurrencies to trade. For the most part, crypto pairs tend to have a floating spread, which means that it has the capacity to change on a regular basis. This applies on a number of major pairs, including Bitcoin/US dollar, bitcoin/euro and Ethereum/British pound.
When it comes to asset classes outside of the foreign exchange and cryptocurrency umbrella, meanwhile, there are more spreads on offer. For stock CFDs, many of these come with spreads as low as 0.21, including major names such as Facebook and eBay. In terms of indices, meanwhile, the spread on the DOW 30, for example, is as low as 1.45. For the FTSE 100, though, it can be as low as 1. The commodity Brent Oil enjoys a spread of as low as 0.03, while the metal palladium has a spread as low as 0.58.
Platform & Tools
101Investing offers a number of tools and platforms for traders to use – and while there isn't as full a spread with this broker as might be found elsewhere, there's certainly a good range of choice.
Regular traders will be pleased to know that 101Investing is compatible with MetaTrader 4. This is a market-leading software platform and is well known within the industry. It offers a range of customisable features such as price charts, analytical objects for the technical assessment of such charts, and a choice of four different market order execution modes.


For traders who require advanced functionality, MT4 can be downloaded for use on the desktop. It can, however, be operated from a web browser by opting for the MT4 WebTrader option – so for traders who wish to avoid downloading and setting up software packages, it is likely to be ideal.
101Investing also offers a mobile app, and this comes with a number of features, including over 30 analytical tools and compatibility with trading hundreds of assets. One downside, however, is that this broker does not offer MetaTrader 5, which is the latest iteration of the software and comes with more powerful features.
Commissions & Fees
Next, this 101Investing broker review will turn to commissions and fees.
101Investing publishes a long list of fees on its website, and traders are advised to take note of these before opening a trading account with this broker.
First of all, the broker states that there are no deposit fees for clients to pay. Similarly, no commission fees are payable either. However, there are a number of inactivity fees that clients are liable to pay.
First off, accounts that fall inactive during a consecutive period of 60 days will face a fee. Inactivity is defined by the broker as an account ceasing with trading activity, or failing to open and/or close trades. The fee varies depending on the exact duration of the supposed inactivity. If it's over 61 days, the fee is €80 – and this is also applied retrospectively, with the same figure covering the 60 elapsed days, and hence the total fee becomes €160.
Once this reaches more than 91 days, the fee becomes €120 per month. If the inactivity continues to more than 181 days, the charge reaches €200 per month. Once the inactivity comes to more than 271 days, the fee spikes to €500 per month.
In addition to inactivity fees, 101Investing also charges a series of withdrawal fees in some cases. These are set at €50 (or the equal amount in another denominated currency). It does not appear that these are levied automatically, but rather only in cases where what the broker calls 'insignificant' or no trading activity has been observed. Withdrawal fees can also be charged in situations where clients intend to take out under €100. 101Investing does not specify how much these fees might be.
Education
101Investing certainly takes its responsibilities seriously when it comes to educating traders on how to navigate the forex markets. It has, for example, a large library of VOD content, which allows readers to progress at their own pace through a series of relevant courses.
Helpfully, the designers of this course at 101Investing have split up the video content into different categories. There is one subsection, for example, which is specifically aimed at beginners. Topics in this part of the course include 'Chance And Risk', 'Currency Pairs' and even some exploration of trading psychology such as 'Are you an emotional trader?'


For those with a bit more experience beyond the basics, meanwhile, the 'Advanced' section contains a variety of more technical areas of study, such as 'Calculating Pips', 'Support and Resistance' and 'Market Analysis Types'. There are also other categories, including one specifically for education about MetaTrader.
However, video is not the only education option on offer at 101Investing. Those who prefer to learn by reading can choose to use a range of in-house eBooks, which come in topics on everything from key terms used in the forex markets to one devoted to capital management. Those who want something more interactive, meanwhile, can take courses in everything from trading strategies to social trading.
Customer Service
This 101Investing forex review will now take a look at the broker's customer service offer. Customer service is clearly important to the team at 101Investing. The broker's website lists three different ways that customers can get in contact with customer assistance teams if required.
The first way is to send an email to a dedicated support email address. However, those who want to make a phone call can do so by calling a number based in Cyprus. If you prefer to strike a balance between the two, there is also a live chat function available.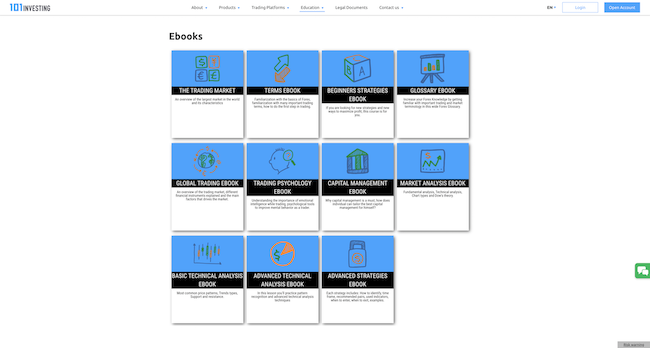 According to a graphic next to the list of options, customer service is available 24 hours a day, five days per week. This is a standard provision for many foreign exchange brokers. These markets operate around the clock on weekdays due to the fact that action is distributed across time zones, but they do not operate at weekends.
Final Thoughts
This is a legitimate and respectable foreign exchange broker that offers traders the chance to trade a variety of pairs at spreads, which, while not extremely competitive, are still trader-friendly.
Traders cannot use the latest version of MetaTrader – MetaTrader 5 – though they can use the older version – MetaTrader 4. There is also a handy mobile app for traders to use, plus a WebTrader package. A variety of account options are available for traders to choose from, including everything from a basic package to a high-end personalised account for VIPs. There is also a Sharia account available.
It's also worth noting that this broker levies a wide variety of fees, including inactivity fees that escalate as the time period in question, goes up and up. There are no commission fees charged, however, and there are also no deposit fees to pay. As this 101Investing review has pointed out, the customer service team offered by this broker accepts a variety of contact methods. These include telephone and live chat.
Finally, the broker is regulated by the Cyprus Securities and Exchange Commission (CySEC), and it offers a range of language options for traders to select.
Broker Details
This broker is based in Cyprus. 101Investing is, in fact, a brand name rather than the name of a firm. It lists itself as being part of FXBFI Broker Financial Invest Ltd, which is based in the Cypriot city of Limassol.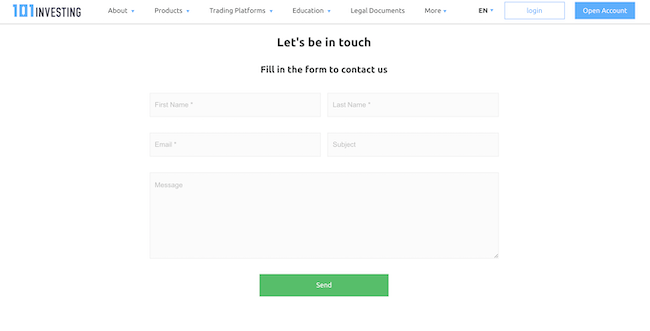 he broker described itself as being regulated by CySEC. It gives its licence number as 315/16. A search of the CySEC register for this number leads to an entry for FXBFI.
Contacts
As mentioned above, there is a variety of different ways to get in touch with the team at 101Investing.
From a customer service perspective, the first way is to send an email note to [email protected] The next way is to call the team on +357 80092740. A link to the broker's live chat function can be found here.
There may be times, however, when a trader wishes to contact this broker for different purposes – perhaps to suggest a change to the system. In that case, it's possible to contact the management of 101Investing by filling out a dedicated 'Contact management' form on its website.
Finally, there is also a registered address posted on the broker's website. This address is in fact for the company that operates it: FXBFI Broker Financial Invest Ltd. The address listed is 13 & 15 Grigori Afxentiou str. IDE Ioannou Court, 3rd Floor, Office, 301, 4003, Limassol.
FAQs
What languages does 101Investing offer?
101Investing is a multilingual website with various different language options on offer. These are English, Portuguese, Italian and German. It is possible to toggle between these languages by using the dropdown box at the top of the page.
What real-money trading account types do 101Investing offer?
As mentioned above, there are various different trading account types on offer at 101Investing. Some of the details, such as the leverage and swap discount levels outlined above, vary from account type to account type. However, some of the features are the same: the Silver, Gold and Platinum accounts all offer features such as hedging, a free virtual private server (VPS), investment news and updates, and a dedicated account manager. There is less information available about Pro *Exclusive accounts, which are aimed specifically at VIPs, as these accounts all offer personalised account services.
On its website, this broker does go into more detail about its professional account. However, it also outlines some information in its 'legal documents' section, which outlines quite rigorous information about what criteria you need to meet in order to be able to be considered a legitimate professional – so it may be worth checking these out before proceeding. It asks traders to provide information about their professional background, and there is a verification process to go through.
In addition, there is also a Sharia-friendly trading account on offer at 101Investing. On its website, 101Investing states that it wants to celebrate having a diverse range of traders from a variety of backgrounds and that this was the impetus for its design of the Sharia-friendly account.
What other asset classes can I trade on 101Investing?
In addition to foreign exchange and cryptocurrency pairs, there is a range of asset classes on offer at this broker. These include commodities, stocks, indices and metals.
What payment methods does 101Investing offer?
There is a wide variety of compatible payment methods on offer at this broker. These include online payment services such as Skrill and Neteller, as well as more mainstream providers such as Visa and Mastercard.
How many forex pairs does 101Investing offer?
101Investing says on its website that it offers more than 45 foreign exchange pairs for brokers. It offers a number of pairs involving major currencies from around the world. These include the Australian dollar, the single European currency, the US dollar, the Canadian dollar and several others.
How can I open an account with 101Investing?
The link to the account creation process for 101Investing can be found in the top right-hand corner of the website's homepage. From there, you will be asked to provide some information in order to get your account up and running.