Launched in 2015, FXGiants are a relatively young Forex and CFD brokerage, but nonetheless, they have managed to completely obliterate their reputation in a remarkably short time. Most of the complaints you will read about this operator were posted in 2015, when they apparently pursued a policy of making it as difficult as possible for their clients to withdraw money. Their support team was often slammed as well. Most of that has apparently changed since though. FXGiants are no longer looking to attract deposits while denying withdrawals, and their new approach has seemingly breathed new life into the entire setup.
Why would you want to trade with this broker these days though?
The advantages touted at the FXGiants website are indeed numerous. At the top of this list is the fact that the brokerage is regulated, by the UK's FCA no less. The license number of the operation is 585561. It has to be noted that the FXGiants brand is represented in the UK by 8Safe UK Ltd, the same company which represents IronFX, so there is indeed some sort of a link between the two brokerages.
The security of client funds has to be at the top of every proper broker's priority-list, and with FXGiants, it does indeed look like they took the lessons of the past to heart. They keep their clients' monies with high-profile banking institutions, like Bank of America, Deutsche Bank and Citi, and they use segregated accounts.
They also have risk-management systems in place, meant to prevent trading accounts from being "bled dry".
Perhaps most importantly though, the brokerage is a FSCS member, which -from the point of view of the trader – would normally mean investment-protection, up to a maximum of £50,000. In 8Safe UK's case though, that ceiling is a massive £1million, given the Excess of FSCS insurance, which the company has purchased. What this means is that even high-volume, VIP-level traders can rest assured that their funds are indeed safe with the operator.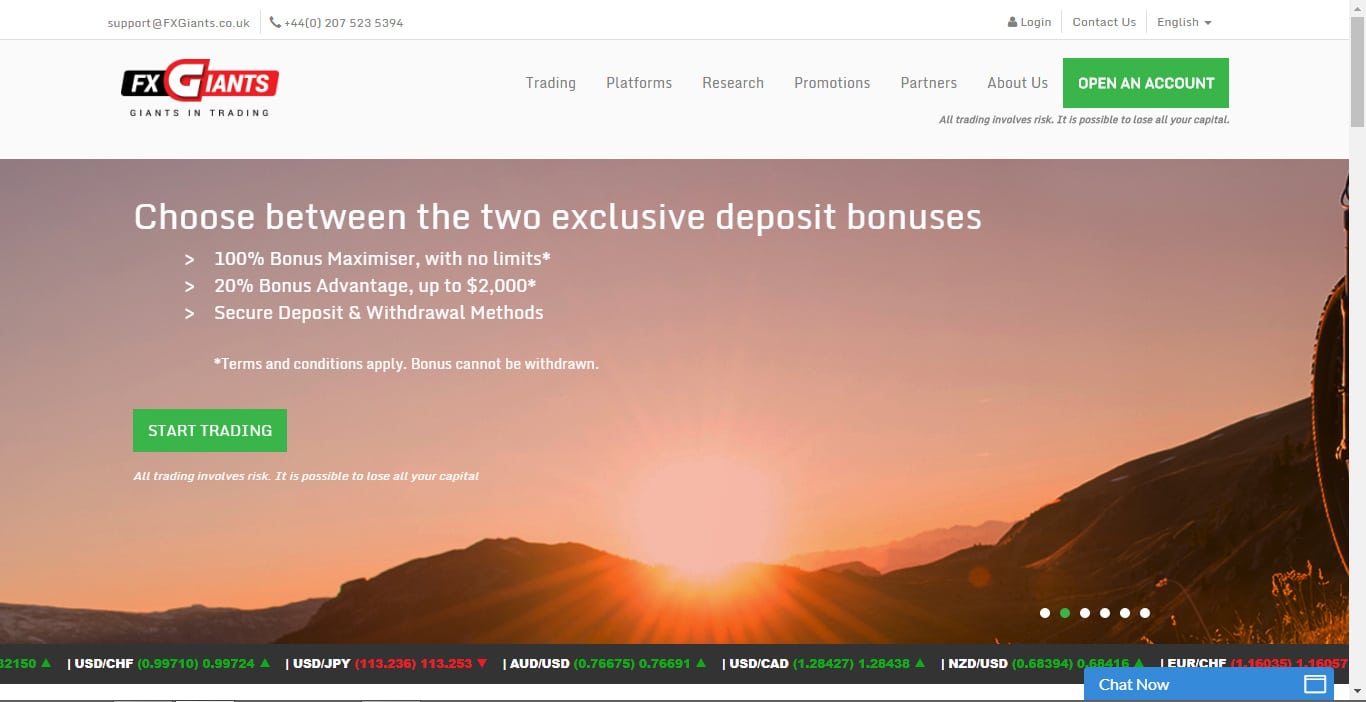 FXGiants' Products
So, what exactly does the brokerage offer products-wise?
The Forex market is obviously the main focus of the operation. This highly liquid, decentralized market is always attractive for beginners as well as advanced traders. The spreads offered on the featured currency pairs depend on the account-type one registers for, though it is safe to say that in theory, this is where FXGiants' smallest spreads can be found.
The Spot Metals section includes XAU (Gold) and XAG (Silver), with spot execution, at alleged best-of-market spreads.
The spreads and margin requirements are apparently equally attractive on Spot Indices and Commodities. The most interesting addition in this section is that of bitcoin, and bitcoin mini, both present in the Spot Energy Commodities section of the product-offering. Apparently, this also means that FXGiants consider bitcoin a commodity rather than a currency. Natural Gas, WTI and Brent are listed in the same category. It has to be noted though that the trading conditions on bitcoin and bitcoin mini aren't exactly attractive. The spread gets "as low as" 1,000 pips and the margin requirement is a massive 20%.
Those looking for better trading conditions will find them in the Futures section. Here, the Euro futures feature minimum spreads of just 0.0002 pips and a per-lot margin of just 1%.
Shares are traded through CFDs, which means that traders get to hedge and short-sell if needed. This sort of setup means that one does not ever get to actually own the traded shares. CFDs are derivatives and as such, they offer certain advantages. The minimum spreads are in the 0.03-0.1 pip range, here too.
FXGiants Account Types
To allow their traders to take full advantage of the above listed massive and diverse product selection, FXGiants have implemented no fewer than 7 different account types. These account options are differentiated through the minimum deposits they require, as well as through the trading conditions they offer.
By far the most accessible (and thus attractive for beginners) is the Micro Account. Featuring a minimum deposit requirement of just $100, the Micro Account can be used with no fewer than 9 base currencies, including AUD, JPY,HUF,CHF and PLN. It gives traders the option to pick from Live Fixed and Live Floating Spread setups. The latter features the lowest minimum on spreads, at 1.1 pips. On a Fixed account, the same minimum is 2.2 pips.
The Premium Account is a sort of upgraded version of the Micro. It too offers the same spread-type choice, but it requires a minimum deposit of $2,500. Several base currencies are supported by this account too. With the Floating Spread system, the minimum spread can be as low as 0.7 pips. With the Fixed system, this minimum is 1.2 pips – significantly better than with the Micro Account.
The 0 Fixed Spread Account is perfectly described by its name. The minimum deposit for this one is $500.
The STP/ECN No Commission Account is also quite self-explanatory. With a minimum deposit of $500, it too features an impressive number of base currencies. It offers flexible leverage, covering the 1:1 – 1:200 range.
The Absolute Zero STP/ECN Account features a minimum spread on the EUR/USD pair of 0 pips. The maximum leverage on this account is 1:200 and it features no commissions either. For more details on this one, traders are required to contact their FXGiants account manager though.
The STP/ECN Zero Spread Account requires a minimum deposit of $500 too, and as such, it too is quite accessible.
The Absolute Zero Plus STP/ECN Account comes with spreads as low as 0 pips on the EUR/USD too.
FXGiants Platforms
FXGiants are powered by the MT4 platform. This industry staple is available in a number of different versions, covering the PC, Mac and various mobile platforms. In all instances, MT4 retains most of its major features, which cover advanced charting, powerful analysis tools and EAs. To aid with the use of EAs, FXGiants offer a free VPS service too. To take advantage of the free VPS feature, traders need to fulfill certain deposit/balance requirements though. Those who do not qualify, can still make use of the service, in a paid format (the monthly price on the VPS is indeed very manageable).
Charting-wise, MT4 features a wide selection of candlestick time frames, customizable charts and templates which can be saved for later use. One click trading, straight off the charts, is also part of the package. The platform can be downloaded directly from the FXGiants website, and it comes with more than 50 pre-installed technical indicators.
In addition to all the different MT4 versions, a Personal Multi Account Manager is also available, which gives money managers the chance to handle an unlimited number of accounts and to create multiple funds, among other things.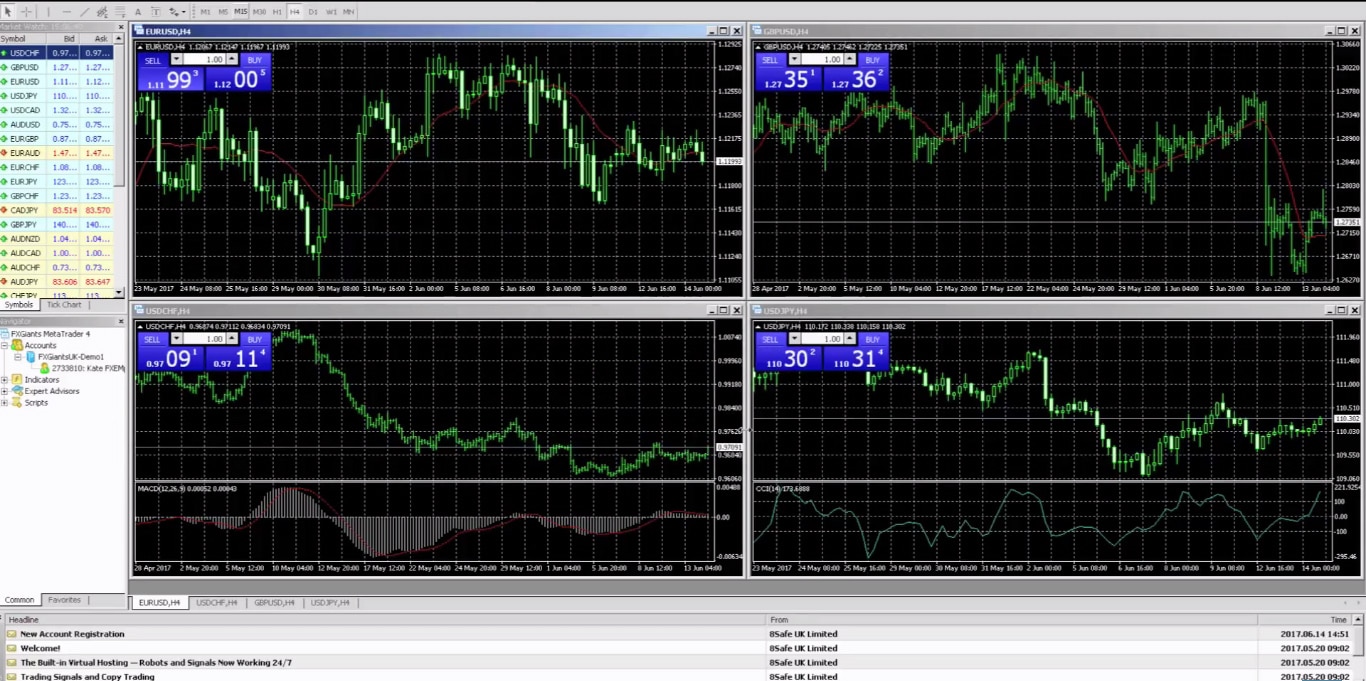 FXGiants Support
The official FXGiants support email is [email protected]. The phone number is +44(0) 207 523 5394. The physical address of the operation is 55 Old Broad Street, London, EC2M 1RX, UNITED KINGDOM. On the contact page, scores of local toll-free phone numbers are provided for various countries, and there's an email form available too.
FXGiants Conclusion
Unlike its 2015 self, the FXGiants of nowadays looks like a serious, and above all accessible, operation.
Read all currency broker reviews