IQ Option has always been a popular binary option trading destination, a brokerage which aimed to please its clients by offering them some of the most attractive minimum deposit requirements and trading conditions. The operator was a sort of trailblazer too, technology-wise, but in this regard, they got invested in the wrong vertical. For a while, they featured a superbly complex and powerful side application, which allowed their clients to build their own trading bots and to monetize them, too. It was all focused solely on binary options though, and – as it is common knowledge – that vertical is not the most trusted one. Their bot-creator a thing of the past, IQ Option have decided to re-channel their resources towards square Forex trading and cryptocurrency-based CFDs, which turned out to be the right move indeed.
Everything accounted for, IQ Option's growth has been spectacular over the last couple of years or so. Their antics haven't gone unnoticed by the community and by various organizations who have shown their appreciation by handing IQ Option a number of prestigious awards.
The Academy of Interactive and Visual Arts for instance, gave the operator the 2017 Award of Excellence. Mobile Star Awards expressed its appreciation through the "Intelligent Trading App for Binary Options" award. IQ Option's trophy case also contains the Century International Quality Gold ERA Award from the Business Initiative Directions Group, and the Best Technology Application award from the Web Marketing Association – among others.
No online brokerage can be considered truly high-profile without a sponsorship deal to match such ambitions, and IQ Option have the ball rolling in this regard as well. In 2016, the forex brokerage teamed up with Aston Martin Racing, becoming the official partner of the racing team in the World Endurance Championship. In 2017, IQ Option have worked towards further expanding the partnership.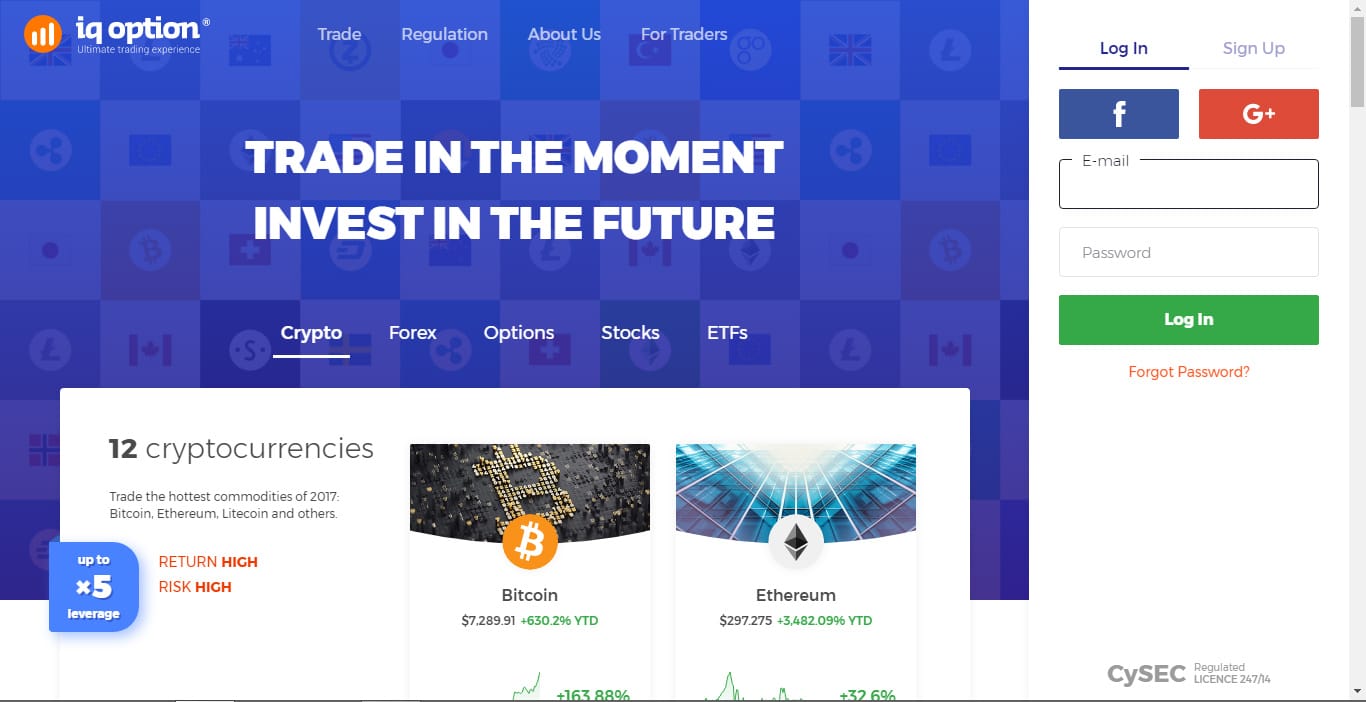 IQ Option Regulation
IQ Option have picked up their CySEC license in 2014. Possessor of license #247/14, the brokerage has been deemed MiFID-compliant, meaning that it can in essence deliver financial services in all the EEA countries. The operator is registered with most of the major national regulatory agencies throughout Europe. This includes the UK's FCA, Germany's BaFIN and Italy's Consob.
IQ Option are not licensed to offer any kind of financial services in the US. As such, they cannot accept clients from the US and a number of other countries to which their CySEC regulatory coverage does not extend.
IQ Option Product Selection
This is the operational department which saw the biggest shakeup over the last few years. Previously focused on binary options alone, the brokerage added Forex and CFDs, which cover the currently hyped cryptocurrency vertical too.
Their Forex selection consists of some 22 currency pairs, all of which can be traded directly off the charts. Traders can close their positions manually, when they feel they're satisfied with the outcome, and they can set Stop Losses and Take Profits too. The spreads on these currency pairs are simply outstanding. On the EUR/USD pair, the spread is around 0.007%. These are variable spreads but they don't seem to climb above the 0.025% mark.
Cryptocurrency trading is done through crypto/USD-based CFDs. The site does apparently state somewhere that users can buy actual cryptos, but on the platform, only CFD-based trading is available, which obviously does not involve direct possession of the traded asset. The selection covers 13 pairs (all crypto/USD), and the spreads run as low as 0.99%.
The CFD section dangles possible profits of up to 100% on every 1% asset-price change. This section plays host to crypto/crypto pairs, such as the ETH/BTC and LTC/BTC. The spreads here are under the 1% mark as well, some of them well under it indeed.
The binary options selection still offers access to no fewer than 22 tradable assets. With expiry times as low as 60 seconds, the projected returns are in the 95% range. Granted, in practice, these rates tend to be closer to 90%.
Digital options up the stakes by quite a bit, returns-wise. Traders are offered dynamic profitability of up to 900% on this instrument and no fewer than 10 tradable assets, all of them currency pairs.
IQ Option Platform
Good enough to have earned the operator several awards, the IQ Option trading platform is an in-house creation, which comes with a decent selection of technical analysis tools and indicators, and a very user-friendly interface. It has to be noted though that in regards to advanced charting and technical analysis, the IQ Option platform is not in the same league with industry staples, such as MT4. Still, analysis can be performed and those who know their way around this vertical, will find the trading enjoyable.
The platform makes it possible for traders to display no fewer than 9 charts, from any of the above detailed product-categories. There's an "Open Positions" section, as well as a "Trading History" one, which give the user a bird's eye view of the trading moves he/she has made.
The Chats and Dialogs section of the platform is quite possibly one of its most underrated features. This is where the social aspect of trading comes into play and this is where trading signals can be swapped back and forth, among other bits of useful information.
OTN Tokens are used for a sort of crypto-powered loyalty scheme. As part of this scheme, IQ Option distribute a limited number of OTN tokens, on a weekly basis, to all those who have made at least one commission-based trade at the site, during the week. Obviously, the more trading volume one generates, the more such tokens he/she will pocket. More than 1 million OTN tokens have been handed out thus far. Traders can use these tokens to reduce their commissions.
Market analysis and video tutorials can be accessed directly from the IQ Option platform too.
The above-mentioned technical analysis toolkit consists of 12 of the most commonly used technical indicators, each of which comes with a brief description. The MA, the Bollinger Bands, the Stochastic Oscillator and the MACD are all included in this package. Traders can't add/install their own indicators. To round out the toolkit, we have 4 graphical tools, like Horizontal Lines and Fibonacci Lines. There are 4 chart-types supported as well: Area, Line, Candlestick and Bar charts.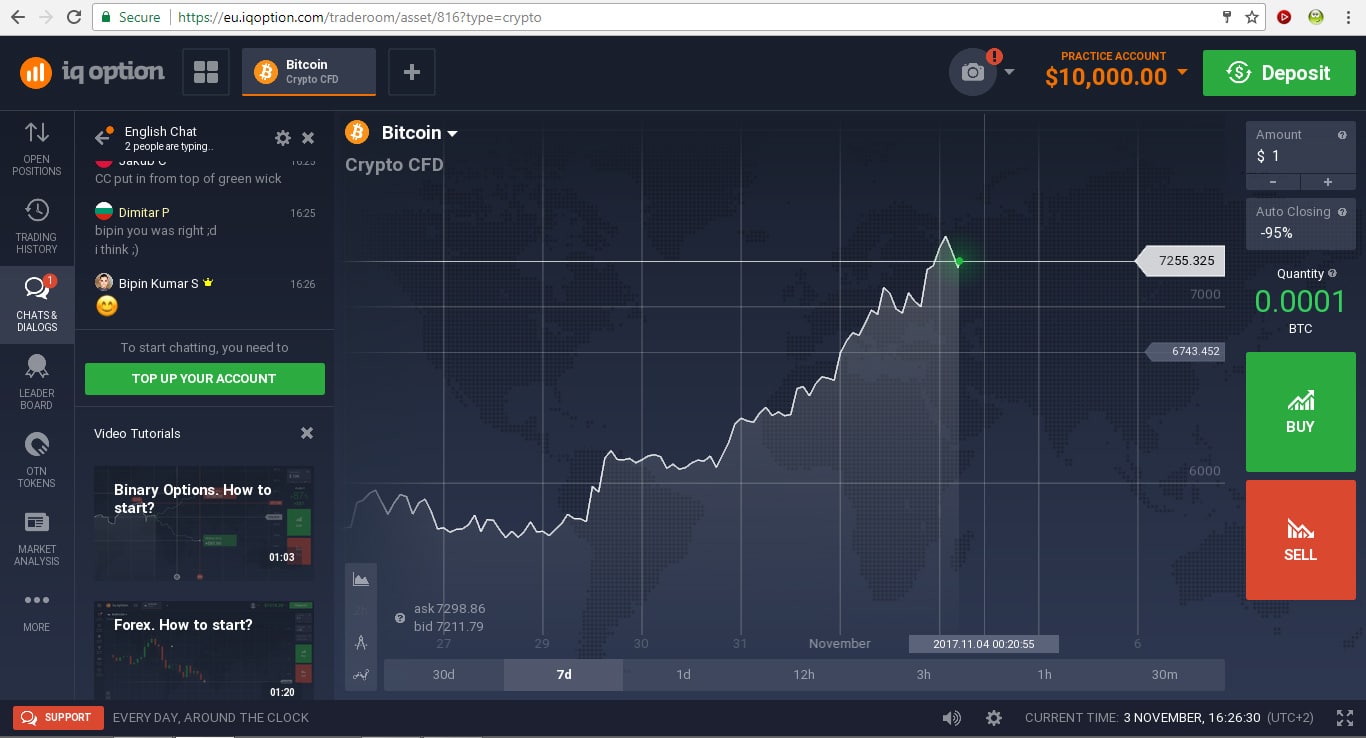 IQ Option Support
IQ Option support can be reached through a handy direct-messaging system. There's a phone number made readily available for live support too: +44 20 8068 0760. In addition to that, traders can contact the CEO and the CAO of the operation through email. There are scores of toll-free phone numbers available on the Contact page, for an impressive number of countries. The official support email is [email protected].
Conclusion
Always at the cutting edge of the trading industry, IQ Option provide a solid trading platform, a good product/asset selection and some of the best trading conditions the industry currently has to offer.
In addition to that, they are once again probing the limits of technology through their OTC Token program, which may indeed result in the birth of yet another altcoin. Exactly what their long-term plans are in this regard, is quite unclear for the time being.