Libertex is the brand for the trading platform and brokerage arm of Indication Investments Ltd, a member of Forex Club Group. Forex Club Group is a company based in the Russian Federation that was founded in 1997 and has been offering its customers online broking services for forex, oil and natural gas, commodities, stocks and precious metals.
Libertex has expanded to presently offer its services to 2.2 million customers from 27 countries around the world. The company employ over 700 people, which work in its offices in Cyprus, the Russian Federation and Belarus. The firm also runs an offshore unit in St. Vincent and the Grenadines.
Libertex is widely acclaimed as an online broker, having won 30 international awards.  The company's most recent award was for Best Trading Application in the European Union by Global Banking and Finance Review in 2016. In addition, the company has also been awarded Best Trading Platform by FinEXPO.
A screenshot of Libertex's official home page, which is located at www.libertex.com can be seen below: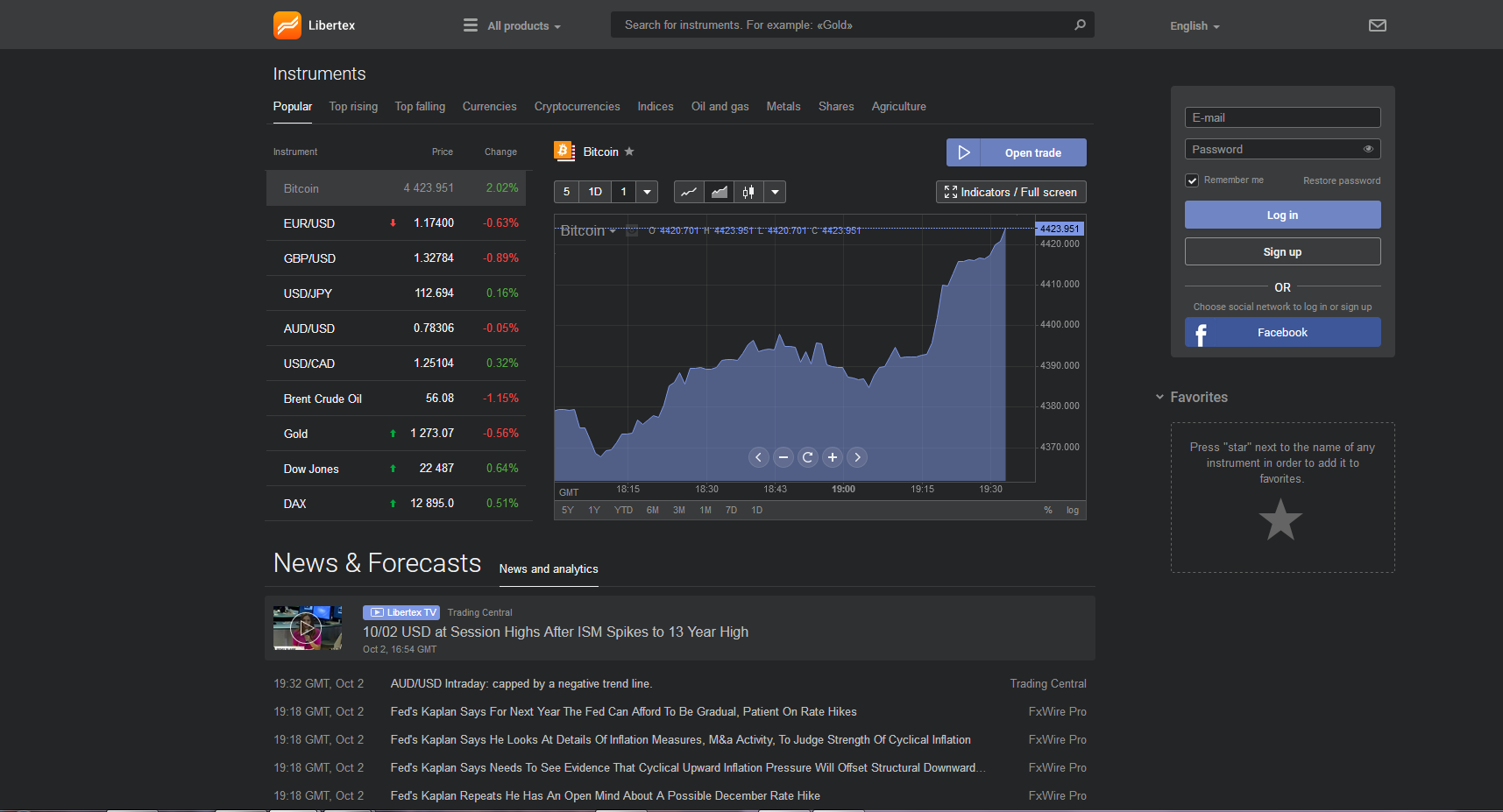 Please be aware that Libertex does not presently accept U.S. clients. If you are located in the United States, you must find another broker.
Features
Libertex allows its customers to trade in 150 different asset types, including 44 major, minor and exotic currency pairs; soft commodities such as coffee, cocoa, corn, wheat and soybeans; metals such as copper, gold, silver, palladium and platinum; an extensive list of premium world stocks including Apple Inc., Google and eBay; and 17 of the world's most actively traded stock indexes and cryptocurrencies including Bitcoin, Litecoin and BitcoinCash.
The company has a few issues that should be considered before deciding on whether to use this broker. The first is that the company charges a commission on the monetary amount of each transaction. For example, a charge of 0.011% is applied to the monetary amount of a EUR/USD trade.
All of Libertex's tradable assets carry different percentage charges, with the rate on EUR/USD being the lowest commission among the major currency pairs. The highest commission on regular currencies is for USD/RUB, which carries a commission of 0.41% per transaction, while EUR/RUB is charged at the rate of 0.386%. Cryptocurrency commissions are the highest with 1.02% charged on Litecoin, 1.0% on Bitcoin and 0.91% on BitcoinCash.
The second matter is that instead of using a set leverage number of 200 to 1 for example, Libertex instead uses a "multiplier", which can vary significantly for different tradable assets. As an example, the highest multiplier in the forex market is for EUR/USD at 500, while the maximum multiplier for USD/RUB is just 10, which basically means that the two assets have leverage of 500 to 1 and 10 to 1 respectively.
Accounts
Choosing an account at Libertex couldn't be easier since the company only offers one type of funded account and a demo account. Both the demo and live accounts feature the company's proprietary trading platform.
Transactions
To open and fund a Libertex account, funds can be accepted through major credit or debit cards, SEPA or wire transfers. Libertex accepts other forms of deposit at their discretion; however, the firm does not guarantee that all methods of transferring funds would be available in the client's country of origin.
To open a live account at Libertex, the customer is asked to present proper identification, as well as make an initial minimum deposit of $250. Initial and subsequent deposits are generally processed within one day of the transfer clearing the broker's bank account.
To withdrawal funds, Libertex requires that the customer submit their request by 1:00PM CET. The withdrawal requires the appropriate transfer instructions and the account details of where the funds originated. A verification of the customer's identity is then conducted with the valid access codes that were generated by the withdrawal request.  Any third-party charges incurred for the withdrawal are the responsibility of the client.
Platform
Libertex uses its own award-winning proprietary trading platform. The web-based platform is extremely easy to use, and once the account is funded, the trader can simply pick an asset type, choose the monetary amount to commit to the trade, and then decide whether the asset will rise or fall.
Variables such as dealer spreads, leverage or margin make no difference in a Libertex trading account, resulting in an efficient execution. The company's dealing platform comes with a complete technical analysis component, with indicators that are divided into Volatility, Trend and Oscillator categories. Also, the trading platform's charts allow the trader to change the time period from one minute to one month, with an additional section on fundamental analysis.
A screenshot of the Libertex trading platform can be seen below: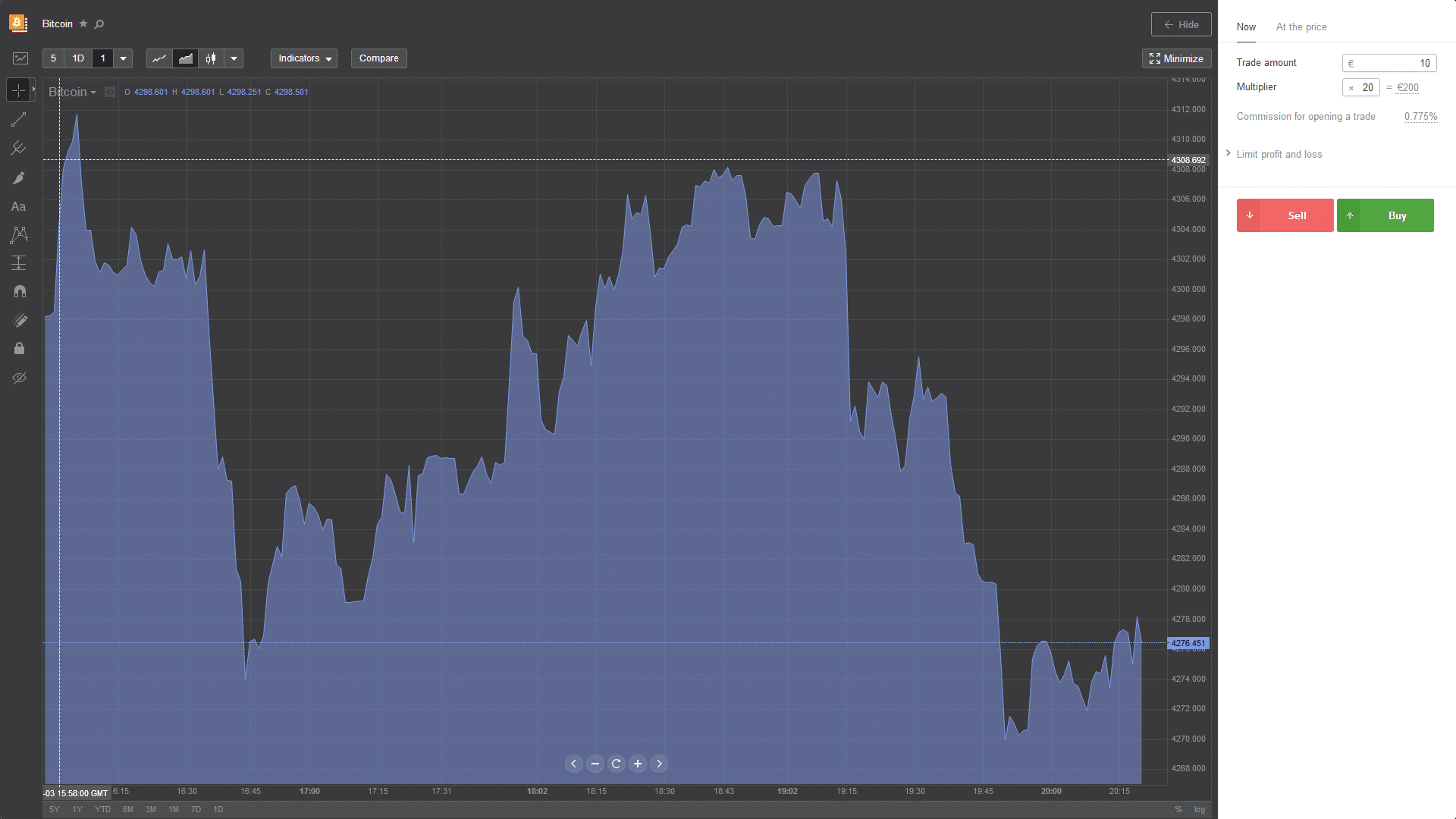 Customer Support
Libertex's customer support is extremely sparse and seems to consist solely of a live chat button. This reviewer could not find a customer support page, email address or telephone number on their website.
Information
The broker includes an excellent news feed on their website and platform, in addition to a Libertex online TV channel. The news feed is powered by FxWire Pro and Trading Central.
Educational
No educational resources were found on the Libertex website.
Safety
Indication Investments Limited, Libertex's parent company, has its primary office in Limassol, Cyprus. The company is registered as a Cyprus Investment Firm or CIF and is authorized and regulated under license number 164/12 by the Cyprus Securities and Exchange Commission or CySEC. The company's registration number is HE 251168 under Cyprus' Companies Law. The physical address for Libertex is registered as 134 Agia Fylaxeos & Amisou, Anissa Court, 4th Floor, 3087, Limassol, Cyprus.
Libertex is an adherent to the EU's MiFID or Markets in Financial Instruments Directive and conforms with all local and European regulations due to its CySEC oversight. Also, the company must comply with the European Union's Law 144(1)/2007 or the Investment Services and Activities and Regulated Markets Law of 2007.
Overall
Libertex has several advantages that include its adherence to CySEC regulation, which increases fund safety for its clientele and assures segregation of funds. The company's award-winning trading platform is another advantage for its user-friendly nature and excellent news feed, which makes it a great choice for novice traders. Another plus is the limited risk exposure the broker extends to its clients.
Disadvantages of this broker include its customer service, which is limited to a live chat button, and its lack of support for MetaTrader4.  Also, the company's fixed commission schedule and use of a variable leverage multiplier could be considered either as a plus or a minus depending on the trader.