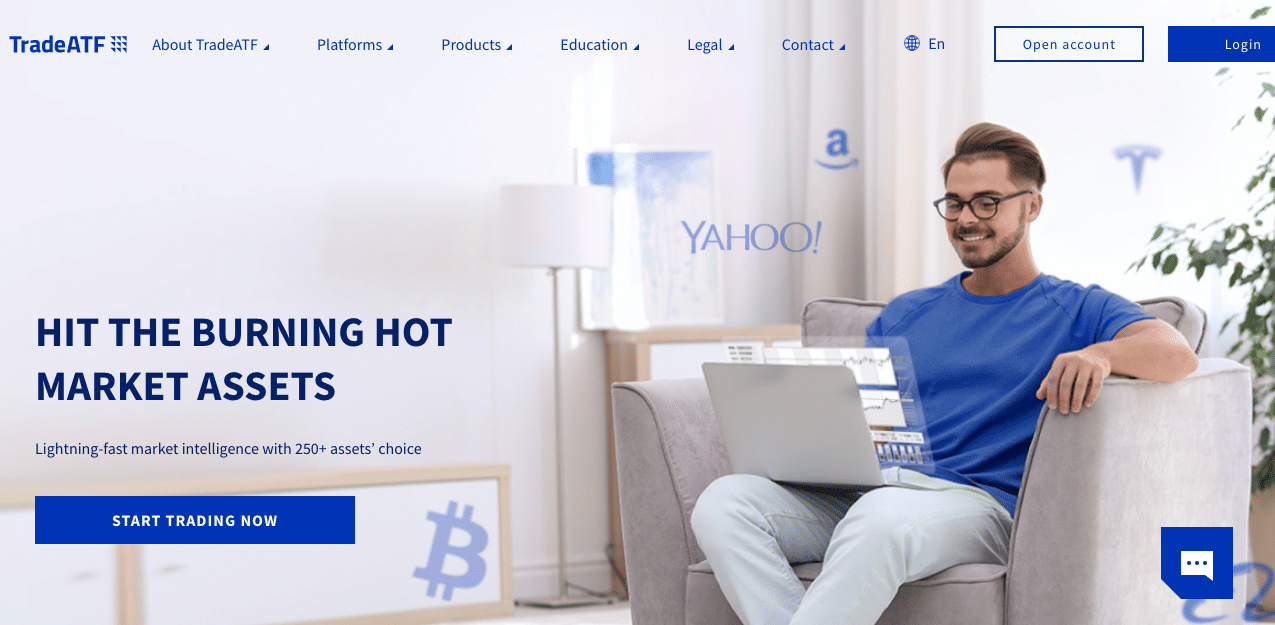 Expert's viewpoint
The expert's view in this Global TradeATF review is generally positive. The brokerage is fairly new, but is a reputable, regulated and fully licensed broker, which means it is generally considered very safe to use. TradeATF is regulated under the Belize IFSC. At this time, there are no complaints or legal disputes against Global TradeATF registered with the Broker Complaint Registry or ForexFraud.com. ForexFraud.com does not currently list this brokerage as a trusted broker, but neither is it listed as a broker to avoid.
Global TradeATF follows all the regulations and best practices that are expected of reputable online brokers. All required legal documents and disclosures can be found at the Global TradeATF website. If you need to find something specific, go to the footer of any page on the website. There you will find links to legal documents, a risk disclosure and other important information regarding security, safety of funds, and essential policies, including a privacy policy, refund and withdrawal policy and a conflict of interest policy. It is reassuring to see that Global TradeATF has published all legal documentation and that everything seems to be in order in this area.
Broker summary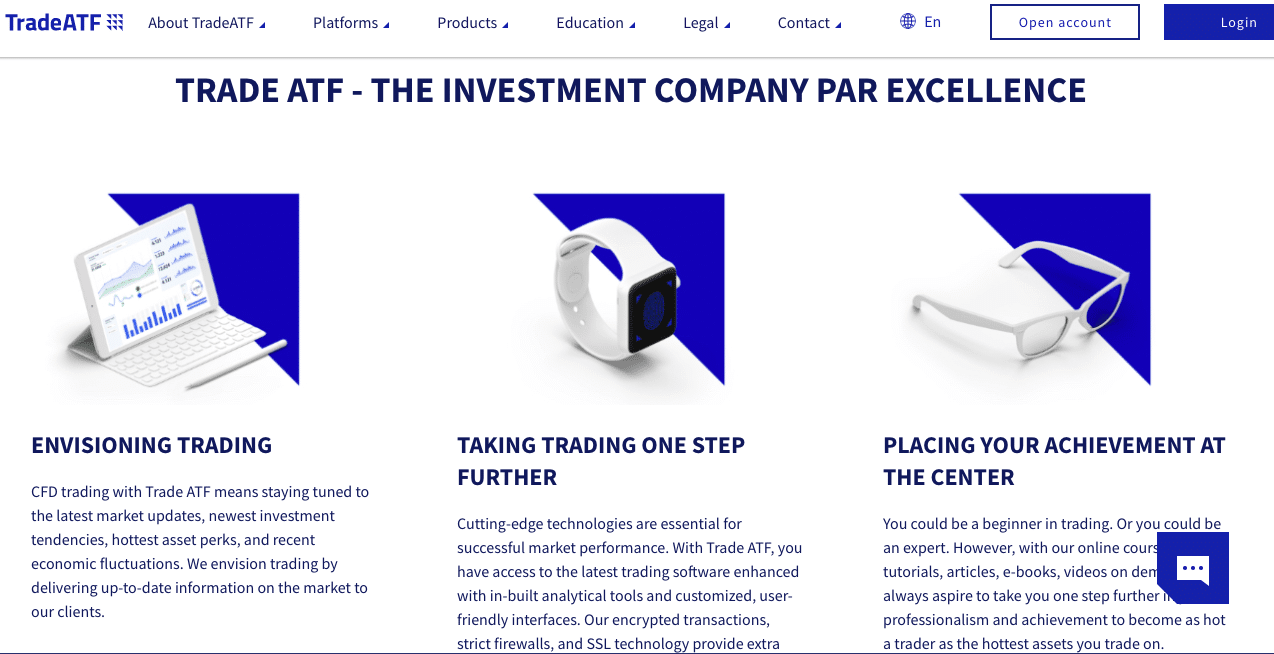 Global TradeATF is a member of the ICF (Investor Compensation Fund) for clients of Cyprus Investment Firms, which allows the broker's clients to claim compensation from the fund under certain circumstances. The object of the fund is to secure claims of clients if the broker is unable to fulfil its obligations to clients — regarding paying them funds owed to them or funds that belong to them that are held by the broker. Hopefully, this will not be a problem for this broker, as its safety of funds document clearly specifies that all client deposited funds are kept in segregated bank accounts, completely separate from the broker's own funds and investments. This is done to protect client funds in the event that the broker encounters financial difficulties, or even insolvency. Global TradeATF is also keen to assure clients that cutting edge technology is used to protect client funds and data. This involves using high-level firewalls and strong security procedures, including data encryption across the website, using Secure Sockets Layer (SSL) encryption.
So now we've established that it is safe to trade with Global TradeATF, we need to decide if you should open an account or not. Is Global TradeATF the best broker for you. And is trading CFDs with TradeATF the right choice for you at this time?
Global TradeATF certainly has a lot going for it, which we'll take a look at in this comprehensive Global TradeATF broker review. In comparison to its competitors, it offers tight spreads, with no commissions, and its leverage is also quite generous by industry standards.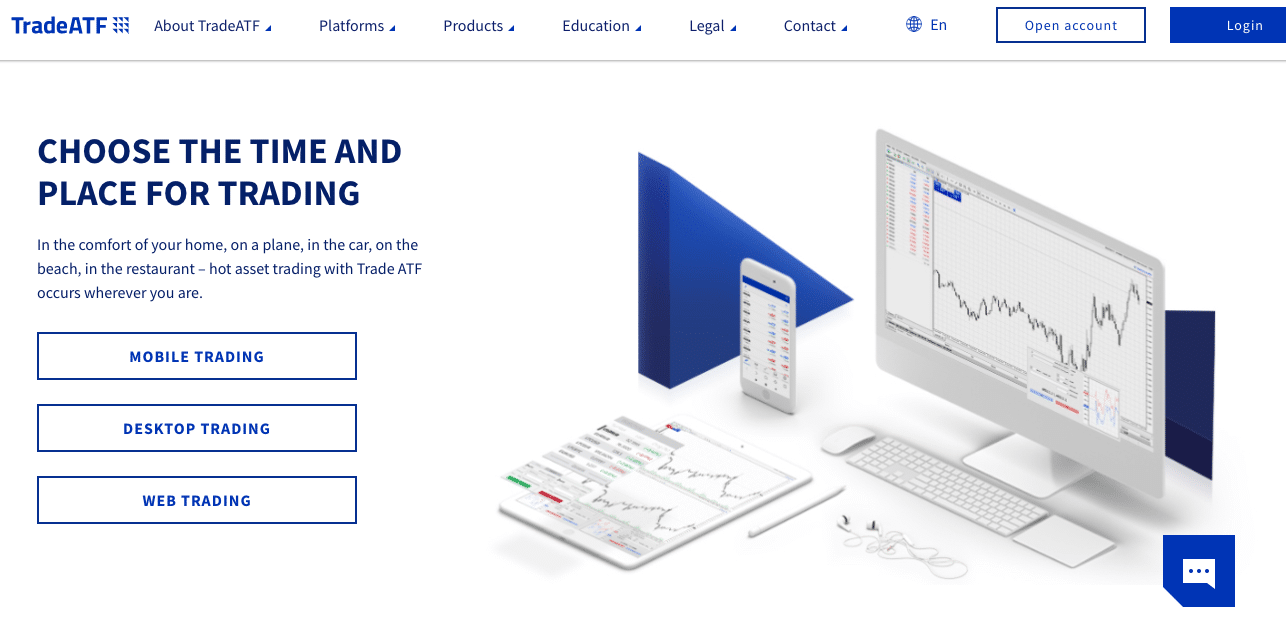 This broker offers different types of accounts, suitable for traders at any level, including its recently introduced professional account, with a number of benefits for high-level traders. Global TradeATF is certainly not aimed exclusively at experienced traders, however. Its standard account is perfect for beginner traders, as we'll discuss below.
Opening an account with Global TradeATF is quick and simple, and completely free. You can register on the website, get your account set up, deposit your funds and you can start to trade as soon as you have deposited your initial funds. Global TradeATF also has an impressive number of tradable instruments, available. Even its basic account includes access to over 700 instruments, and it is even able to offer Islamic accounts, which many online brokers simply don't do.
Broker intro
Founded in 2019, Global TradeATF is a relatively new brokerage that has already established a solid reputation. The industry websites that have chosen to review Global TradeATF have generally given the broker positive reviews. Operating under its parent company, Bayline Trading Ltd. Global TradeATF has quickly established itself as a respectable and dynamic brokerage, attracting clients from many countries.
There are several reasons this broker has quickly become a strong contender in the online trading space. It is able to offer a large number of financial instruments, across several asset classes, with reasonable fees and decent leverage. In addition, its highly targeted account structure means there is an account for everyone, from complete beginner to full-time professional.
Retail traders also have a choice of three different account types, depending on their level of experience. Beginner traders are probably best suited to the Silver account, which offers reasonable spreads, moderate leverage, and the ability to buy and sell over 700 assets. Intermediate traders will generally choose to go for a Gold account, aimed at the slightly more experienced trader. This account comes with lower spreads, the option of hedging and a 25% swap discount. More advanced traders have the option of a Platinum account, with even lower spreads, great leverage, and a 50% swap discount, which creates some powerful trading conditions for experienced traders who know how to take advantage of them. Global TradeATF also now caters to serious traders, with its professional trading account, which comes with a number of interesting features, including tighter spreads, higher leverage, and a dedicated account manager.
As this Global TradeATF CFD review highlights, Global Trade ATF is a CFD broker, meaning you'll be able to trade a variety of financial instruments, using contracts for difference. CFD trading allows you to use leverage to increase your trading power, hopefully profiting from your trades, based on the price movements of underlying assets, without ever actually owning the assets. It should always be remembered that CFD trading can be risky, especially for beginners, and when using high levels of leverage, so it is vital to fully educate yourself on the pros and cons, and best trading strategies. This broker is dedicated to making that easy for you, with its extensive education and training section, which is available to all customers, allowing you to access free resources to help you on your trading journey.
Spreads & leverage
The spreads and leverage offered to you will depend on the type of account you have. Global TradeATF offers some very tight spreads, starting at just 0.03 pips, and attractive leverage. Silver account holders are offered leverage of up to 1:30, which is a generous amount considering that beginner traders are well-advised to use caution when using leverage, at least until they have a gained some experience and developed some discipline in their trading strategies. Minimum spreads available with this account are set at 0.07 pips. The Gold account comes with significantly higher leverage, of between 1:400 and 1:500 and lower spreads, starting at 0.05 pips. Account-holders with the Platinum account can also access leverage of between 1:400 and 1:500, along with slightly narrower spreads, starting at just 0.03 pips. Customers with Platinum accounts also have access to other perks and features, such as instant order execution and a 50% swap discount.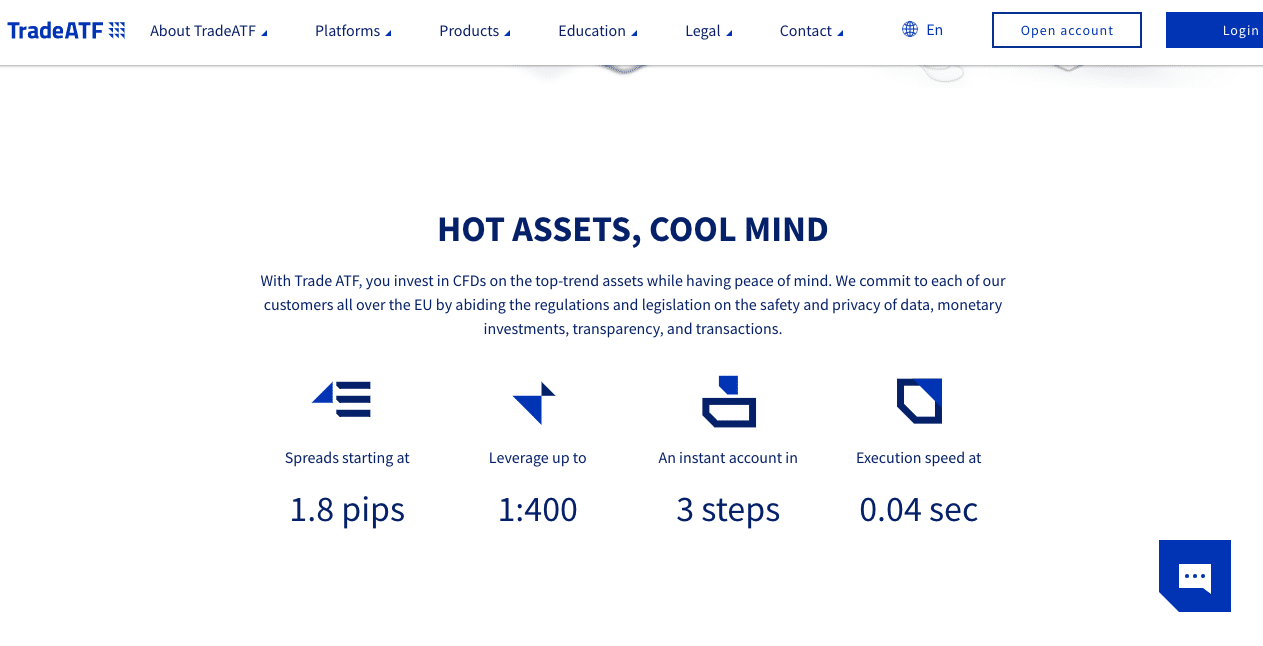 As with any online broker, spreads will vary according to a number of factors. There are different spreads for different instruments and the minimum spreads quoted above are just that — the absolute minimum you can expect to see on the Global TradeATF site. Floating spreads are the norm at this brokerage, as at many others. So, you should always be prepared for changes in spreads, as well as sudden price movements — both of which can cause your order to complete at a different price to the one you were expecting. Remember, only Platinum account holders have the advantage of instant order execution.
Platform & tools
Global TradeATF offers the well-respected and ever-popular MetaTrader 4 trading platform. As MT4 enthusiasts are aware, this platform has a range of useful and advanced features that make trading more interesting and potentially successful. The award-winning MT4 software is highly popular with online traders at all levels of experience, whatever they trade. It includes a range of technical indicators, back testing features, and a very high level of customisation. Its integration with many third-party tools and indicators allows for a very personal experience, allowing you to add all kinds of features to help you with anything from advanced market analysis and predictions to social and copy trading.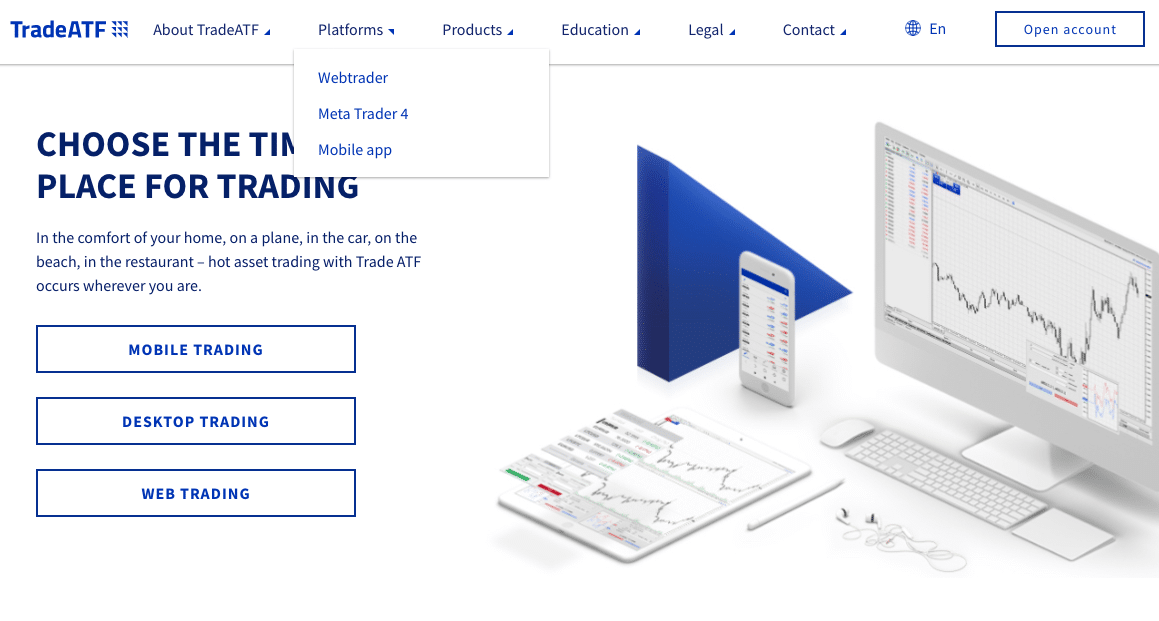 With this broker, the MT4 trading platform is available both as a desktop program, and via internet browser. The browser-based platform offers a great deal of flexibility, facilitating trading directly from your browser, on any device, with all the MT4 functionality you would expect, along with full synchronisation. Global TradeATF also offers mobile trading with the MT4 mobile trading app, which can be downloaded onto any smartphone or other device. This gives you full access to all your trading tools and activities, allowing you to sync accounts, place trades and execute orders wherever you are. The mobile app is free and available for both Android and iOS devices, from Google Play or the App Store.
Commissions & fees
This broker's zero-commission business model is no doubt one of the many factors at the heart of its success. Whenever a broker boasts that it is completely commission-free, you know that the company is taking its profit from the spreads, so the first thing to check is that the spreads aren't so high that they cancel out the benefits of the commission-free deal. As we have already discussed, the spreads at Global TradeATF start at a very reasonable level on most instruments, so overall, charges are competitive, plus there is the advantage of a simplified fee structure, as you are not trying to factor in a commission on top of the spreads. Spreads will vary, of course, so traders need to keep a close eye on that to avoid any surprises when placing trades on the various instruments they may want to buy and sell.

Most brokers have a few extra 'hidden' fees, but at Global TradeATF, these seem to be minimal. There is no fee for depositing or withdrawing funds, for example, at least not from the broker themselves. As most traders are aware, some banks, credit cards and other payment processors may levy their own fees on deposits and withdrawals, especially if they decide to classify these transfers as a cash transaction. Global TradeATF has a number of payment options, so it should be possible to find one that suits you. With any broker or financial services provider, fees and charges are subject to change, sometimes without notice, so it is always your responsibility as a trader to monitor that, read all terms and conditions and ensure you are not being charged fees you do not need to be paying.
Education
It is always the sign of a good brokerage when a wide range of educational resources and training materials are provided and Global TradeATF does not disappoint in this respect. This is unsurprising, given that Global TradeATF offers a range of accounts aimed at traders at different levels. This broker also offers a range of educational resources, which are aimed at brokers at all levels. There is a video on-demand library, which is split into different topic areas, with sections for both beginners and more advanced traders, as well as a section on how to use the MT4 platform. In the education section, you'll also find online tutorials and courses, covering general trading strategies, the pros and cons of trading CFDs, and various other topics.


Global TradeATF also produces a collection of ebooks, for different types of traders, with different interests. They include a broad range of topics — from the importance of capital management to the importance of emotional intelligence when trading. This Global TradeATF forex review has also explored the broker's highly useful forex glossary, a full forex economic calendar and a report season calendar are also available. This really is a highly practical and well laid out educational resource library that many traders will find invaluable.
Customer service
Customer support is a very important element when it comes to trading online. Most traders use a remote brokerage, often based in another country, and do all their trading online, so when the need arises, fast and responsive customer service is a must. Global TradeATF provides a number of customer service channels, including live chat, which is often the preferred mode of contact for traders who live their lives mostly online. Live chat is easily accessed via the website, but if you do feel the need to pick up the phone and talk to someone direct, there is also a customer support phone line, available from 8:00am to 8:00pm, Monday to Friday. There is also the option to email, or use a contact form, which can be accessed on the website, and replies are prompt and helpful. All support channels (phone, email, contact form, and live chat) are freely available via the website, and can be accessed by both potential and existing clients.

Another customer support element is the extensive customer help section, which covers all the commonly asked questions you would expect, with brief but adequate answers. There is also a lot of pertinent information distributed throughout the site, and the extensive education section, as already mentioned, will provide new and existing customers with the many of the answers they might be looking for. These include how to start trading, how to use the MT4 trading platform, and how to use basic technical analysis in their trading strategies.
Final thoughts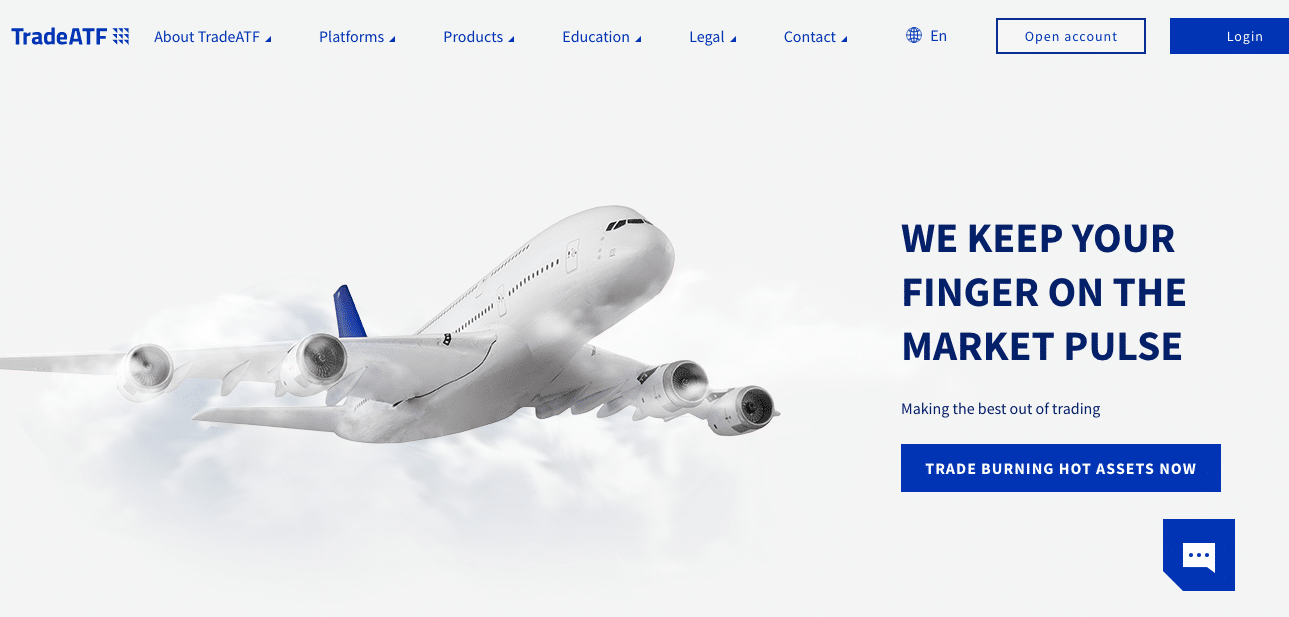 As our Global TradeATF broker review has demonstrated, this is a brokerage with a lot of interesting features, for both new and more experienced CFD traders. There is a wide range of tradeable instruments on offer, from forex to commodities, and even cryptocurrencies, which are not offered by every online brokerage. This Global TradeATF cryptocurrency review notes that the broker's website is very comprehensive and easy to navigate, and the MT4 platform will already be familiar and trusted by many CFD traders. The mobile app is well designed, robust and intuitive, and will also be familiar to those traders who already trade on the go, using MT4. There is a good choice of retail accounts, which make this broker an interesting choice, whether you are a brand new trader or a more advanced trader with more complex requirements. The different accounts also offer less experienced traders room to grow as they can progress from the Silver account to the Gold and even Platinum account over time. The new professional account will also no doubt attract more advanced traders and financial professionals to the brokerage.
Spreads are generally very competitive, starting from just 0.03 pips for some instruments, for clients who hold the Platinum retail account. Levels of leverage are also more than generous, and appropriate to the account tiers offered. The lack of commissions will also appeal to traders who want to keep things simple and transparent. For MT4 traders, there is the advantage of having their much-loved and trusted platform available in its various forms, including the very useful and intuitive mobile app. In addition to all this, there is the very comprehensive education and training section, along with a helpful FAQ page to help new traders and those more advanced traders who are dedicated to their own continuing education.
Finally, there is the high level of comfort and security that comes from knowing this broker is fully licensed and regulated by the relevant authorities and is a member of the all-important Investor Compensation Fund. As most traders know, there are always risks associated with online trading, but if you are looking for a reputable versatile, multi-asset broker, then Global TradeATF is definitely an option for you.
FAQ
Is Global TradeATF trustworthy?
Global TradeATF is a registered, regulated and fully licensed broker. The brokerage follows best practices in online trading and publishes a risk disclosure along with other important policy documents, which you should read carefully. While you should always exercise caution when investing, there is no reason to believe that TradeATF is untrustworthy.
Is my money safe with Global TradeATF?
Global TradeATF publishes a safety of funds document laying out how it keeps your money safe, through security measures, segregated accounts and ICF membership. The most likely way you will lose money when trading with any broker is through your own trading activities.
What instruments can I trade with Global TradeATF?
You can trade forex, stocks, commodities, indices and cryptocurrencies. All instruments are tradeable as CFDs
How do I open an account with Global TradeATF?
Opening an account can be done online and involves three quick and easy steps. You simply need to register, add funds your account, and start trading.